Our Services
WellBridge provides care for adults who require inpatient or outpatient physical therapy, occupational therapy, or speech therapy services or inpatient skilled nursing care, such as IV therapy and wound care.  WellBridge provides care for people involved in an automobile accident or work-related injury.  People who have had an elective surgery such as a hip or knee replacement or someone who was hospitalized for an acute illness, such as a stroke or heart attack, will benefit from the care provided at WellBridge.  People in need of inpatient hospice care or long term care are also welcome.
WellBridge employs hospital liaisons that can meet with you and your family at the hospital to answer any questions that you may have and to work with the hospital to make your transition to WellBridge as smooth as possible. Our Care Transitions staff will arrange for any services that you may need once you are ready to go home – such as equipment or home health care.
Luxurious Hotel-Style Amenities
Private suites available
Private bathroom with European-style shower
Tempur-Pedic mattresses
Luxurious sheets and linens

—

300 thread count micro fiber
WB Bistro
Room Service — made-to-order
Full-service Salon
Massage Therapy — includes one complimentary massage
Complimentary Wi-Fi
Smart TVs equipped with interactive software – such as Skype, Facebook, and internet based photo sharing capabilities to help our guests stay connected.
Bathing Suite with Hydrotherapy Whirlpool Tub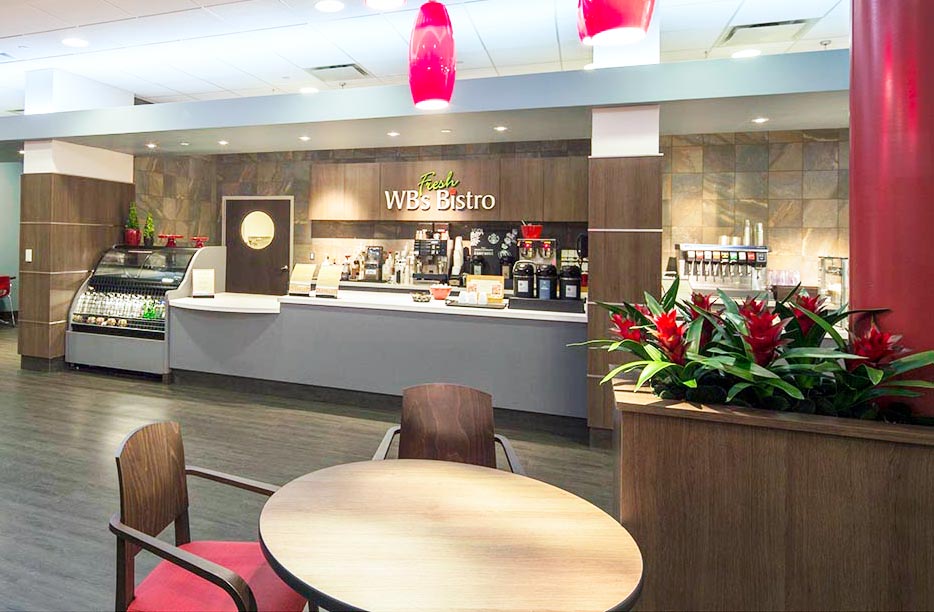 Dining at WellBridge
Each WellBridge location offers culinary delights made by our chefs with fresh, local ingredients. Guests may choose room service or to be served restaurant style in our dining areas. Menu items are also available for the friends and family of our guests. The signature WB Bistro offers a wide variety of fresh selections such as soups, salads, and sandwiches as well as Coca-Cola products.